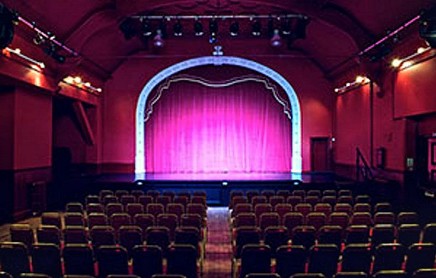 The Astor's Auditorium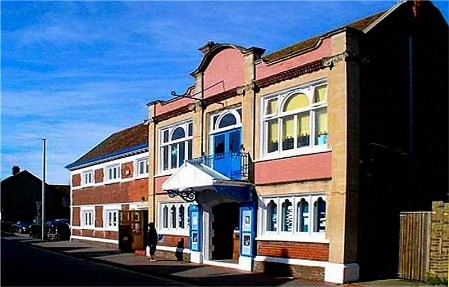 The Astor Community Theatre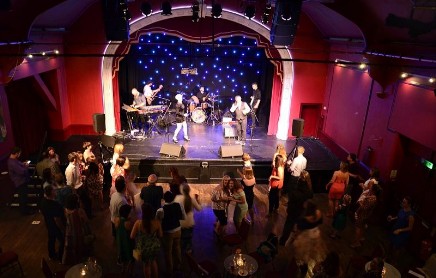 Disco time at The Astor
Today's Astor Community Theatre in
Stanhope Road, Deal, can trace its history back to the early 1900s. However, before that, the land on which it stands is understood to have belonged
in the 18th and 19th Centuries by a local family, the Igguldens.
Two brothers,

Edward and John,

who served
as
mayors of the town and had business interests in shipping and brewing established Hills Brewery on the site. In 1901 it was sold to another local brewers, Thompson & Sons, who decided to close it.
The site was sold on to two
prominent local businessmen - Mr
Arthur Wise and Mr T
Steed Bayley - who proceeded to develop the land. This resulted in the creation of Stanhope Road - linking the High Street through the former brewery site and an adjoining orchard to West Street - in, it is believed, 1904.
Stanhope Hall and skating rink was built during 1905 and opened in 1906. The hall was advertised as being available for "entertainments, meetings and receptions". The building incorporated a glassed enclosure for seating which was used for concerts and shows when the, then, Pier Theatre was too exposed in bad weather. The space was also used as a roller-skating rink. In 1928, when the new Deal Pavilion theatre opened on the seafront in late July, the Stanhope Hall which had recently undergone substantial refurbishment was renamed the Winter Gardens Theatre.
In the 1920s the Astor family had acquired the building. And i
n 1934 Major John Jacob Astor, who served as Dover and Deal's
Member of Parliament from 1922 to 1945,
leased it to Deal Borough Council as the
Astor Hall
. Then i
n May 1945, following the end of the Second World War, he gave the building to the people of Deal as a tribute to their "courage and fortitude" throughout
the shelling and bombing from enemy action. In recognition of the generous gift, the council renamed it the
Astor Theatre
.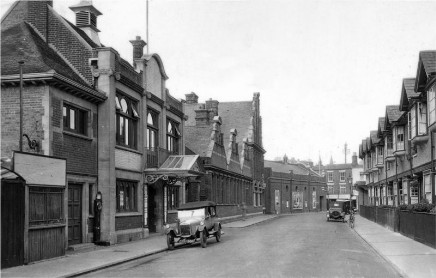 Stanhope Road in the 1920s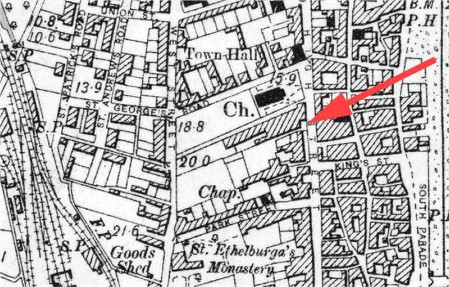 Before Stanhope Road - an 1872 map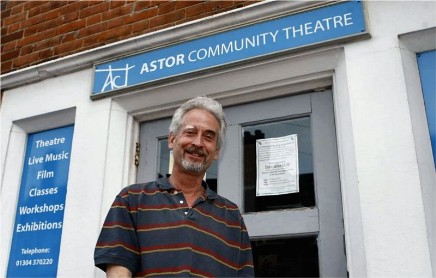 Artistic Director James Tillitt
In 2000, new management took over and, when the theatre had been unused for a number of months, public pressure again focused on saving the theatre. This led to the building being managed by a number of individuals and trusts with varying degrees of success. In 2008 the theatre was closed as the building was deemed to be unsafe.
In June 2009, James Tillitt of Deal Arts Management CIC, acquired the lease and began a seven-month restoration programme. The building reopened in January 2010 as The Astor Community Theatre (ACT). Since then the theatre has steadily developed and now provides a venue for a diverse range of events and activities. In addition to its programme of music, drama, film screenings and literary events, ACT has also become a centre for
art exhibitions, fitness and wellbeing classes,
youth and adult education as well as an amenity for local schools, businesses and community groups.
For more on The Astor Community Theatre and its programme of events, please see its website.