Deal Castle and its history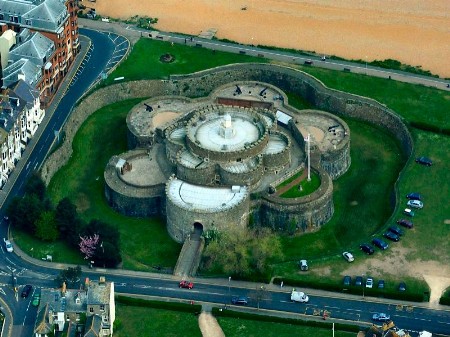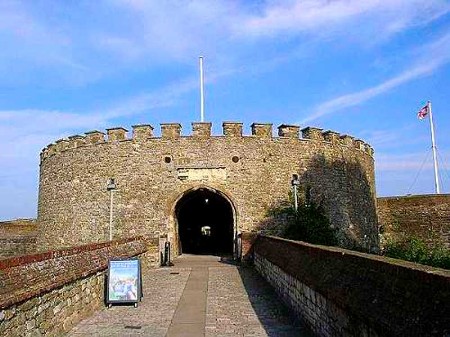 Deal Castle was built by Henry VIII between 1539 and 1540. Fearful of the threat of invasion from Catholic France and Spain, he authorised construction of three fortresses in the area - to defend a vital safe anchorage for shipping in the Channel known as "The Downs". The other forts were a mile to the south at Walmer and a mile to the north at Sandown. Walmer Castle is now the official residence of the Lords Warden of the Cinque Ports. But Sandown Castle was largely demolished in the middle of the 19th century and only a few stones remain.
The plan of Deal Castle is symmetrical, with a low, round tower at its centre. Around the circumference of the central tower are six small semi-circular bastions, with a further series of six larger bastions in the curtain wall, one of which serves as the gatehouse. All the outer walls of the castle and bastions are rounded to provide strength and to efficiently deflect shot.
Over 200 cannon and gun ports were set within the walls and the entire structure was completely surrounded by a deep, wide moat. The central tower was strongly constructed to carry guns on its roof. The outer bastions originally had space for four guns on their flat roofs and a further three guns in rooms below. The design of the castle meant that a total of 66 guns could be mounted, and a further 53 handguns could be fired through firing-loops at basement level. Around 1570 the six outer bastions were filled with earth, probably to strengthen the gun mounts on the roof.
Henry VIII's fears were never realised and it wasn't until 1648, during the English Civil War, that the castle finally came under siege. The three local castles were initially held for Parliament, but in the Spring of 1648 the forces switched allegiance to support the Royalist cause. Parliamentary forces, led by a Colonel Nathaniel Rich, laid siege to the castles - regaining control of Walmer in mid July, Deal in late August and Sandown in early September. Deal Castle had suffered damage during the uprising. Repairs were made and Deal Castle remained fortified up to the end of the Napoleonic wars in 1815.
Many alterations were made during the 18th and 19th centuries including provision of more comfortable accommodation in the late 1720's. Since it was first built, Deal Castle had a Captain. Until the early 1700s he commanded the garrison, after which the title became purely honorary. For a list of people appointed as Captain of Deal Castle see Wikipedia/Deal_Castle.
In 1951 the castle was taken over by the Ministry of Public Building and Works and is part of the Crown Estate. It is now run by English Heritage. For more information and details of public opening times, see English Heritage website.
This page was updated on October 24, 2019